Shanghai Top 10 Places
This in no particular order, and I'm sure some of you will disagree or say that we missed your favorite place. I get it. Shanghai has a million things to do, see, eat, and smell. But, these are our favorite things to do in Shanghai.
1.    High-End Club – M1NT
One word: views. The views are amazing. It's on the top floor of a skyscraper, with great access to The Bund and cityscapes. It's in a great location on the Puxi side, near Nanjing East Rd. There's a club, a lounge, and a restaurant. Considering M1NT is one of the hottest spots for Shanghai nightlife, this is the place that you go with your friends when you want to show off those fancy new duds that you just bought at the fabric market.
2.    Bar/Pub – The Camel/Shanghai Brewery (Tie)
The Camel is a traditional sports bar, with tons of TVs, pool tables, etc. It has awesome deals most days of the week and also offers a fun quiz night on Tuesdays. Shanghai Brewery is a microbrewery that has tasty IPAs, pilsners, etc. and is also a cool place to hang out and grab a bite. Both are also in the same area of Shanghai, the Former French Concession, so they're really convenient to move around to different locales.
 3.    Hotel – The PuLi
Location is superb. Within 5 minutes from one of Shanghai's most centralized subway stations, Jing'An Temple. The hotel is top-notch. Don't limit yourself to just dropping your bags and exploring, take the time to use the spa facilities that the PuLi offers! This is truly one of the best Shanghai hotels. You'll thank yourself afterwards.
 4.    Bubble Tea/Boba/Milk Tea – Coco's
This is a franchise that is pretty much on every block of Shanghai. The orange logo'ed milk tea is so popular that China has a series of knock-off Coco's, perhaps with an extra 'o' or another 'C'. When you need that sweet fix and want to chew on some tasty tapioca pearls, get yourself a Coco's. Only ¥7!
 5.    Park – Century Park
I'll be honest; I don't go to the Pudong side very often. It's almost like a separate city. That being said, Century Park is reason enough to make the trek over there. It's a huge expanse of green grass, trees, and a little creek. You can't take that for granted in a concrete jungle. There's all sorts of events happening, from concerts to 5ks.
6.    Cheap Club – Dada
Do you like to dance? Do you not have lots of money to spend on drinks? Looking to have a good time and groove to EDM or hip hop (depending on the night)? Dada may be the spot for you. It's a little hole in the wall, somewhat dirty, and typically packed with students from nearby JiaoTong University. But it's kind of charming, with its wall graffiti in the small lounge area and odd computer component decorations.
 7.    Dive Bar – Perry's/Helen's/Any Windows Establishment (Tie)
Perry's and Helen's are more or less the same thing by different names. There are now two Perry's though! Perry's/Helen's offers some of the cheapest alcohol you can find outside of your local Carrefour/Family Mart. It's a big time spot for international university students. They offer hookah and shisha, cheap food and drink deals 24/7. Get there early to snag a table. Windows has a few different spots, Scoreboard (beer pong, sports, rock music), Garage (hip hop music, cheap food), Too (same as garage, just different location).
8.    Street Food – Dalian Road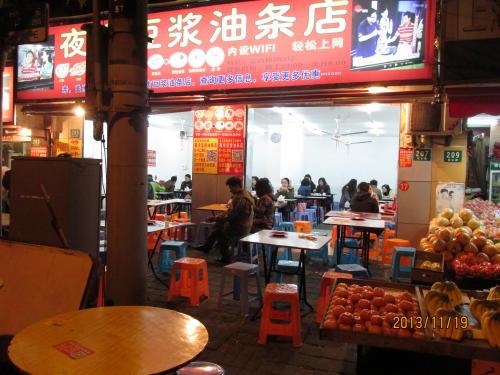 You sit outside on little tables and plastic chairs, while you eat delicious, delicious street food. It's traditional Shanghai breakfast food for dinner! Fried bread sticks (油条), tofu soup (sweet or salty), pancakes, etc. It's cheap and tasty!
9.    Food Delivery – Sherpa's
If you've spent any amount of time in Shanghai, Beijing, or Suzhou you've probably heard of this food delivery service. They give you the ability to stay on your couch and watch your bootleg episodes of Walking Dead while you wait for a burrito or any other food from restaurants from all over the city.
10. Tour Group – UnTour Shanghai
After you've finished watching your TV series and gotten fat on delivery, you can call up UnTour Shanghai to do different tours of Shanghai. Even for people that have been here for a while, it's really cool. They show you all sorts of hidden gem restaurants and tourist spots. They offer jogging tours too for those of you trying to run away from the Blerch.
11. Dinner Option for Group – Teppenyaki!
This isn't a particular spot, but it's a necessary restaurant option! There are various teppenyaki restaurants all over. They're all-you-can-eat AND all-you-can-drink! That means beers, sake bombs, sushi, Japanese hibachi BBQ and fried bananas with ice cream in copious amounts. Normally has a limit of 3 hours, but not usually enforced. Let the merriment ensue!
Okay, so technically that's 11 of our top places, but we couldn't rule out one of these to cut it to ten. Whether you're looking for hotels, restaurants, nightlife or other activities in Shanghai, there's a little something for everybody. What are your favorites and why?